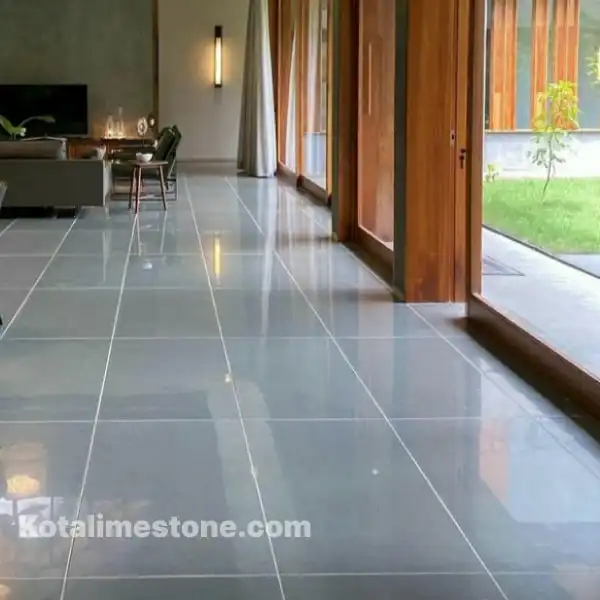 Kota Limestone
Kota Stone Tiles
Cost-effective Natural Kota Stone Tiles for Indoor Flooring
Planning for your dream home and want to give it a different look? Something really very different that attracts and pleases every eye. Then why you are going to use common Marble, Granite or vitrified ceremic tiles for flooring. Let's give a new bold and beautiful pleasant look to your floor by adding Kota Stone Tiles.
Kota stone tiles are made with natural limestone. It is 100% waterproof, dust-free and healthiest because it is limestone. Kota stone tiles are the perfect choice for bathroom flooring, bedroom floor due to its anti-slip properties. You and your family will be safe from slipping even on a high glose polished tile.
Kota Stone Tile Colors
Kota stone tiles are available in four colors. All colors are very eye soothing and natural. Though we can Adjust the brightness, sharpness, or contrast with different soft wax polishing. Below are the four main colors of kota stone tiles:
Blue - A ligh tone of blue on a white base
Gray - A very light shade of grey on a white base
Green - A very light tone on a white
Brown - A mix of tan brown on light earty base
Honey - A shrap light effect on earthy base
Black - A pastel black, it is also called Kadappa Black
Kota Stone Tile Finishes
Kota limestone tiles are available in various finishes and patterns.
Kota Stone Floor Tiles Manufacturing
We have our in-house tiles manufacturing unit based in Ramganj Mandi a small town in the Kota district of Rajasthan. Our factory is equipped with high tech latest machines for cutting and polishing to produce Kotah stone tiles.
Kota Stone Tile Price
The base price starts at Rs.20 per square foot. Though prices depend on the thickness and size of the tile. We request you please leave your requirement in detail so we can quote you the best price for Kotah stone tiles.
Kota Stone Floor Tile Cleaning
Kota stone flooring tiles does not required too much of care. You can clean your floor easily with water only. As kota stone does not absorb water, stains also stay out. Secondly kota stone is durable and can not be broken easily once installed.
Kota Stone Tile Size